It's the Holiday Season again and the months of November and December had become very busy for me due to work. These months are "peak seasons" for our company since many clients wanted to settle everything before the year ends. I got no chance to update this blog until now but at least I got loads of things to share with.
The long awaited rescue for Valeria had been unveiled. The most enticing quest to do for high end pioneers this patch. But apparently my connection during her arrival was so unstable. I tried the quest but all in vain due to DC and ISP lag. Even with right equips all the trials are wasted so I decided to get her as soon as my connection is stable for good.
Even with the DC-fest I manage to make a clear tactic how to defeat the 2 bosses on time. I choose Romina, Reckless Emilia and Asoka as the rescuers for the cute lolita. Since mobs are mentally weak Reckless manage to clear mobs at first area within 10 minutes time frame. All buffs are given by cash shop drugs and Mystic Ampules since I got no buffer and managed to let Sith help.
For the first boss Reckless is 1HKO with its swinging skill. Asoka and Romina killed it for another 5 minutes so now I got enough time to exterminate Testormento. The secret behind killing him fast is the positioning of your characters. Make sure all of your characters are not in the range of its AOE or everything will be GG. Farthest is Reckless spamming Madness skills. The 2 amazon tankers continue to hit rapidly. When testo is about to skill, I run then re-engage again. When the Bio-mans are up, they got no match for Reckless. Gosh she really shines here. For the pressuring minutes Testo is dead and I finally got Valeria (first trial without the DC).
I named her "Snow" since she is pure and white as snow. After making her she is on the training instantly.
After the completion of the quest, the Prison raid is finally unlocked. I wanted to try it out so I decided to tag along our most imba members who are going to raid it. Mobs hit so painful, and they are plenty, Red lolli is essential here to kill the 3 elite Valiants fast and proceed to the elite bio-man who is guarding infront of the warp gate. Surprisingly after warping in all the members are placed in individual rooms to kill Kingdom Ogre. Gosh he is so powerful for soft armors. My Elementalist, Reckless Emilia and Emi G are no match for it. I just waited for somebody to rescue me inside that room huhu. The trick is to bring 1 tanker so you can solo the room with ease.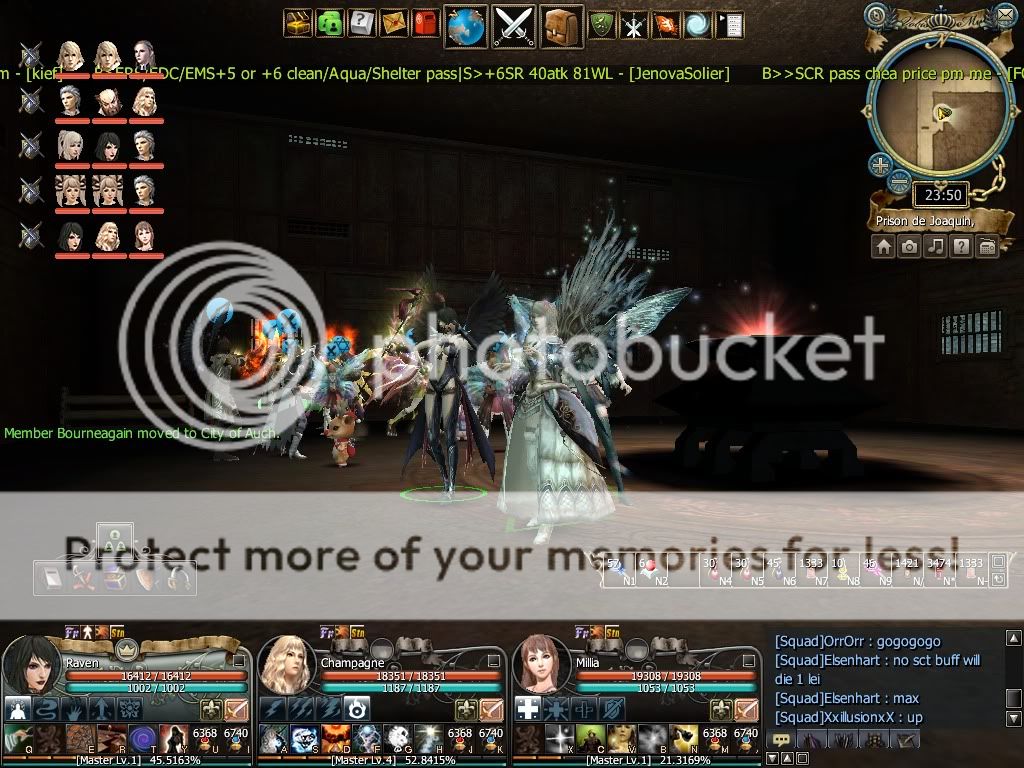 On and on we skill the boss until he spawns a lot of Ogre and Bioman Grrr....Really hateful at first but proper teamwork can finish it on time. The nicest thing I got there were e92 dagger and high quality belt. Good reward for such hard raid in my opinion. Some got earrings and 32 ar dagger.
Meanwhile, I am still trying to finish the castilla Mines quest line. But for the adventure I tag along the Castilla Relics Raid to gain experience in high end raiding. Same Concept as the Mines such that bosses are more powerful and got tons of spartans to deal with LOL. I managed to stay alive and got to see Tempest in flesh haha. He is slow in skilling but it got so much power it can 1hko esa and eln users.
After killing him up we went to the Temple but it needs many gold relics so I pass for the adventure there for now.
In accordance of the festive season IAH put up special events and promotions to fill the cravings of GE players. Additional percentage was given to each kind of top up. Discounts are made for selected cash shop items that really made a lot of players rush to top up. Also ABS is retiring now so many spammers took advantage of its last sail. Unlucky for PH players because E-games got a problem with the codes they sell to players. Half a month of waiting for the codes to be used but after it has been resolved there are no stocks at the Loading Stations until next year I guess so all the promotions are wasted for those who are planning to buy GP for now. I am saving the remaining GP for the costumes of helena, reckless Emilia and Elementalist, so no GP wasting for now.
Lately SGE got the Rudolph event. I am trying to farm many ores for it then try it until I get the santa grabber. He looks so cute and matches the X-mas season with the attire of the 4 lovely NPC namely Adelina, Emi G, Calyce and Grace. Their santa costumes are made into priority although its so expensive >_<
The day before X-mas is happy for me since I already got Innocentio Stance on training. I can't wait to try it out at CW if I manage to train it to max in no time.